The National Hockey League is top notch when it comes to branding and marketing its products. The league is a major force on Twitter, serious player on YouTube, and NHL teams are doing a terrific job of connecting with fans through various other forms of social media and online engagement, as well. One major avenue for maintaining strong brand/fan relations is online, and NHL team websites are doing it right.
The league's team sites project beautiful uniformity, crisp design, quick load up times, and easily accessible menus covering just about everything you could think of. Throughout the NHL, many club websites feature contests, team wallpapers and links to social media. Some sites take interactivity to a greater level, incorporating message boards and fantasy hockey leagues for their beloved fans. And in a show of good will, many franchises allow their fans to easily make donations to charity with a few simple clicks of the button.
If you find yourself visiting the Montreal Canadiens official team website there is a great feature allowing you to participate in a team quiz. The Weekly Quiz on the Habs website allows fans to answer some questions about the team for a chance to win a prize. This week's prize is an autographed Danny Briere t-shirt.
If you check out the Vancouver Canucks "Fan Services" section you'll find information on a cool new feature called "Fan Text Services" which allows attendees to text questions to the team while in the arena watching a live game. The Canucks aren't the only NHL club doing this, either. The Anaheim Ducks also have a "Fan Text" feature at games, plus, on ducks.nhl.com you can participate in Message Board conversations with other Ducks enthusiasts.
Catching a game in Chicago any time soon? If you are, take a look at the Blackhawks' "Fan Zone" to find a list of over thirty bars where you can catch a Hawks game on TV with a cold beverage and delicious meal.
On the Colorado Avalanche website you can have a good look at the team's Ice Girls. They are some real beauties! If you're an Edmonton Oilers fan, join a Fantasy Hockey league at oilers.nhl.com. The Los Angeles Kings website displays blogs by Kings fans, as well as, a cool section allowing viewers to vote on the Kings' Player Of The Month.
The Nashville Predators do it differently with their "How Do I?" section containing answers to some interesting questions, including "how can I sit in the penalty box before the game?" "how can I get a ride on the Zamboni during a Predators game?" and "how can my band play during intermissions?"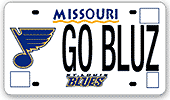 With a trip to blues.nhl.com you may apply for an authentic Missouri St. Louis Blues license plate. Click on the image to the left and be taken directly to the Blues web page with Missouri license plate details and an application to buy your very own branded team plate.
The Boston Bruins website is currently displaying full episodes of the team's new mini series 'Behind The B.' The show has received some acclaim for its behind the scenes managerial insights and player profiles.
Browse around the league's team websites and you'll discover all sorts of interesting features unique to each NHL club. The sites facilitate many interactive and engaging options to keep you busy for a while and spark your interest. Watch videos, check out player bios, and more. You can jump from one team to the next by simply hitting the menu option called "Team Sites" located at the top of every NHL team website.