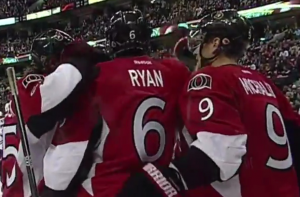 Tonight could be the beginning of something special for Ottawa Senators' new sniper, Bobby Ryan. The Sens open their 2013-14 NHL season on the road, in Buffalo against the Sabres. Ryan will make his debut on a line with captain Jason Spezza and winger Milan Michalek.
Bobby Ryan's career thus far has been impressive, compiling 30 or more markers in 4 of the previous 5 seasons – only relinquishing in last year's lockout shortened 48 game schedule.
Bobby scores like a star but he's never enjoyed the opportunity to play lead role on an NHL club. Throughout his entire tenure with the Anaheim Ducks, the American born skill man has been buried behind C Ryan Getzlaf and RW Corey Perry. With the Sens, Ryan will take centre stage, receiving top minutes and power play time.
The Sens power play has the potential to be incredible. Bobby is a terrific shooter, Spezza is one of the best playmakers in the league, and quarterback Erik Karlsson's contributions from the point can break down any penalty kill unit in the NHL.
Ryan replaces former Senators captain Daniel Alfredsson on the right wing. Big shoes to fill for the 26 year old, but his pedigree suggests he is more than capable of replacing Alffie's on ice production to begin with.
Sens fans, if you haven't seen it yet, here is what you're getting from Bobby Ryan this season:
Bobby Ryan Preseason Goal With Sens


Bobby has scored some crazy goals in his career, perhaps none more interesting than one he sniped against the Minnesota Wild while using a team mate's stick – opposite hand.
Ryan is a flashy goal scorer, too. Have a gaze at these unbelievable individual efforts.
Ryan enters a new chapter in his NHL career. With the Ottawa Senators he'll be given the chance to take what he's learned from Getzlaf and Perry in Anaheim, and use that knowledge to become a leader for his new club. The journey begins tonight.